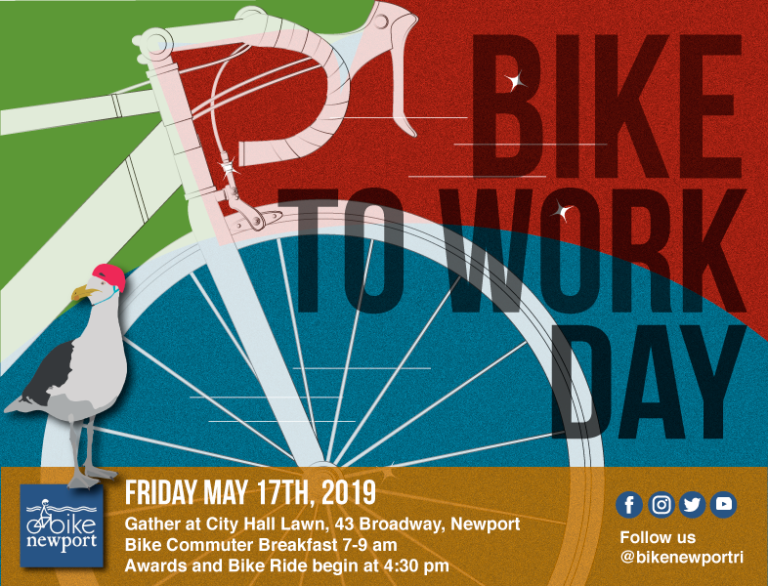 Join us on Friday May 17th, Bike Newport is hosting Bike to Work Day.
We'll gather for our annual Bike Commuter Breakfast from 7-9 a.m. at Newport City Hall (rain location is Bike Newport's office across the street, at 62 Broadway). At 4:30 p.m., we'll reconvene at City Hall for bike-friendly progress reports and to award the Bike-Friendly Business of the Year. At 5 p.m., we'll set out on a group bike ride around downtown! Invite your friends via Facebook and spread the work on Instagram and Twitter. #BiketoWorkDay #BikeMonth #BikeNewportRI #NewportRI
The breakdown:
Who: YOU! And your friends, family, co-workers, neighbors….
What: Bike to Work Day festivities, from breakfast, to afternoon awards and a group ride around downtown.
When: *This Friday* May 17th.
Where: City Hall for breakfast from 7-9, and then for post-work festivities at 4:30pm.
Why: To ditch our cars and hop in our saddles, celebrate Newport's bike-friendly progress, and join together for a community ride.
See you there!
For more information, visit bikenewportri.org, call 401-619-4900 or email info@bikenewportri.org.