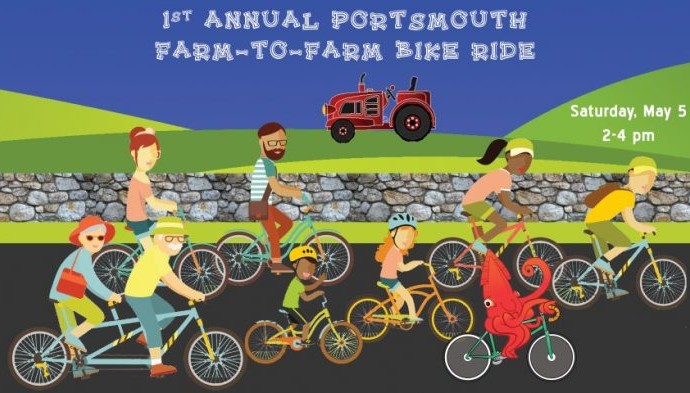 (Newport RI) Bike Newport is pleased to announce a first-time car-free family ride on Aquidneck Island: the Portsmouth Farm-to-Farm Bike Ride will take place on Saturday, May 5th, from 2:00-4:00pm. This leisurely 4-mile ride is well-suited to bicycle riders of all ages and abilities and is free of charge.
The ride will start at the School Administration Building at the north end of Middle Road. Bike Newport educators will be on hand to lead helmet fittings and bicycle checkups before heading out on the road with the riders to offer assistance and encouragement.
The full length of Middle Road will be closed for two hours and Portsmouth Police will be positioned at both ends and along the way to assist with redirecting traffic. Bathroom facilities will be provided by the school district in the School Administration parking lot. And the Portsmouth Department of Public Works will sweep Middle Road prior to the ride, to improve road safety for riders.
Bike Newport works to improve education, infrastructure, and safety so more people can ride bikes for transportation and for recreation. Bari Freeman, the Executive Director, encourages people to grab the opportunity to ride car-free, "Here's the chance to enjoy our beautiful local landscape without the concern of riding with cars. Come out and enjoy!"
Volunteer Portsmouth residents have assisted Bike Newport, the Town, and Portsmouth Police to ensure a safe and fun experience for everyone. Town Administrator Richard Rainer shared, "The Town of Portsmouth is delighted to be the first to host this wonderful one-of-a-kind event."
The bike ride will pass by six scenic local farms along Middle Road: Escobar's Highland Farm, DeArruda Farm, Quonset View Farm, Portsmouth Nursery, BAW Farm, and DeCastro Farm. Other local farms will provide food to the event caterers. Information about all the farms will be available at the start and along the route. "Middle Road is the perfect venue for this family-friendly event, offering some of the best views in Portsmouth," says resident Daniela Abbott, the lead event volunteer.
The farms are for our viewing pleasure only, however there will be info about the farms at the main gathering point with some farm staff there themselves to meet and greet with.
Parking will be available at the School Administration building and Town Hall, as well as Escobar's Farmhouse Inn, where the event caterer will be selling local grass-fed beef burgers from Cloverbud Ranch.
The event organizers look forward to making this a yearly tradition for May, which is National Bike Month. Portsmouth Town Councilwoman Linda Ujifusa shared, "It is a great event for so many reasons including encouraging community health, supporting our local farms, and providing a fun opportunity for recreation."
Numerous local businesses are sponsors of this first-time community event celebrating healthy outdoor activity, enjoyment of beautiful landscapes, and support of local farms: Newport Cosmetic and Family Dentistry, Bristol Marine, Countryside Children's Center, YMCA of Newport County, EcoRI News, Aquidneck Island Planning Commission, Aquidneck Pediatrics, Clean Ocean Access,  Rhody Fresh Milk, Rhode Island Farm Bureau, Standard Modern Company, Reynolds DeWalt, and Escobar's Farmhouse Inn and The Rhode Island Nursery, Landscape Association and The Local Patch.
Saturday, May 5th, from 2:00-4:00pm
School Administration Building at the north end of Middle Road.