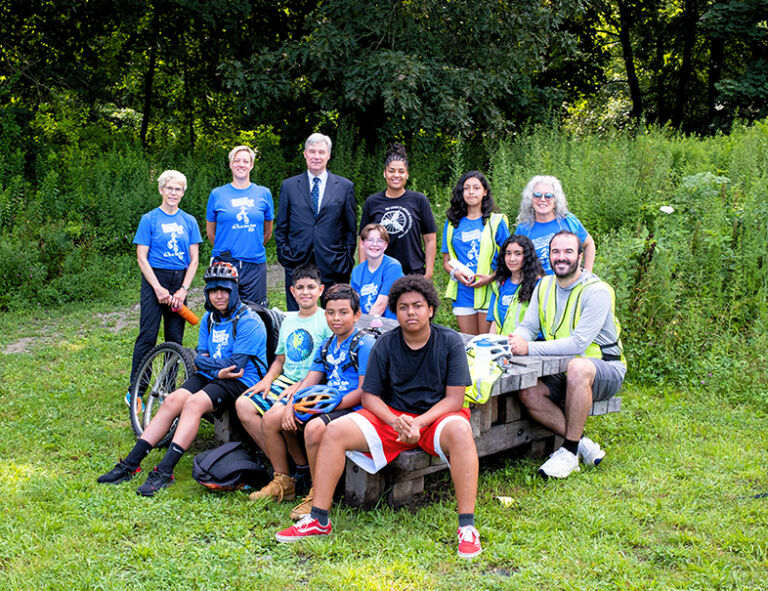 Our summer campers and staff had a real treat when US Senator Sheldon Whitehouse visited Bike Newport's Big Blue Bike Barn this week. Campers learned more about the connections among biking and carbon reduction and climate, and Senator Whitehouse heard why our kids love biking and Summer Bike Camp. Everyone agreed – including the Senator – that the wind in our faces on the downhill is the best part! A likely choice on these hot days!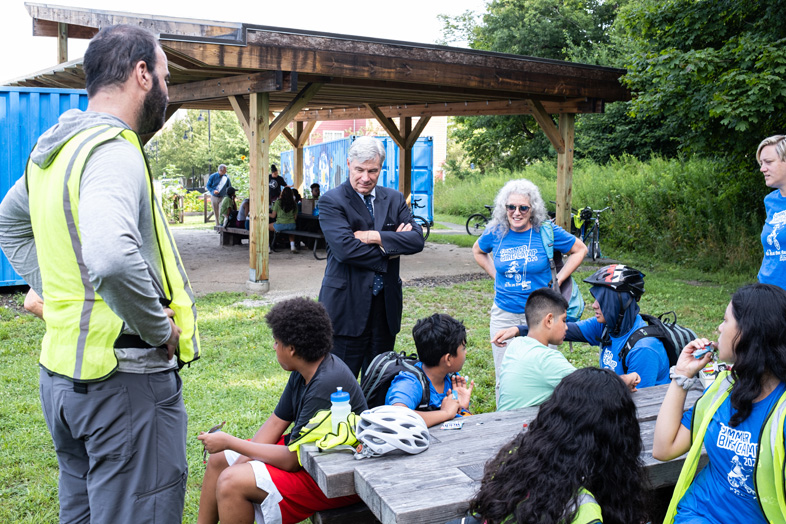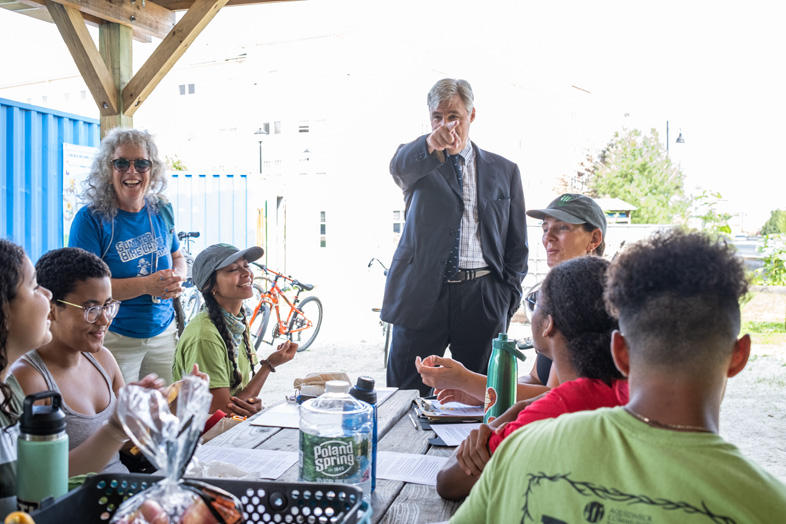 Also on site were the summer workers of Aquidneck Community Table (ACT)'s Root Riders, who call the Big Blue Bike Barn home when they are not out harvesting and distributing produce from their many community gardens around the City – all by bike! They, too, enjoyed sharing the awesome promise of their community program with Senator Whitehouse.
Senator Whitehouse's focus on carbon reduction has inspired an array of innovative thinking about adding bicycle and pedestrian access to our bridges. (The Senator talks about "Crossing the Pell" in this report about the virtual reality experience presented by the Rhode Island School of Design and Bike Newport last December.) Keeping the momentum, we are working with Senator Whitehouse and his staff to request funding for bridge infrastructure for bikes through the federal Infrastructure Bill. Transportation funding is focused on the healthy, cost-effective, economically-beneficial carbon-reducing innovation that bicycling delivers – and we love working with the Senator to make progress!
Back to the Bike Barn – Senator Whitehouse toured the entirety of the Big Blue Bike Barn campus – the educational program area, ACT's community gardens, our (awesome) Pump Track, the 900 square-foot shelter, and the new paths into Miantonomi Park. Senator Whitehouse and Bike Newport's Executive Director, Bari Freeman spoke about improving and encouraging more and better biking as a solution to the City's traffic congestion and a boon to the City's economy. And they spoke at length about the promise of a connected, accessible, and safe bicycle network throughout Aquidneck Island – an effort that will result in more people biking more often to short-distance destinations including work, school, shopping, and play. You can learn more about this island-wide effort at Ride Island.
We so enjoyed Senator Whitehouse's visit and the time he spent with our campers, staff, and community partners. We are proud to have a Senator who recognizes bicycling as a solution, and who is committed to prioritizing and supporting safe, comfortable, and connected bicycle and pedestrian infrastructure in the best interest of our community, environment, economy, and quality of life. Thank you, Senator Whitehouse!