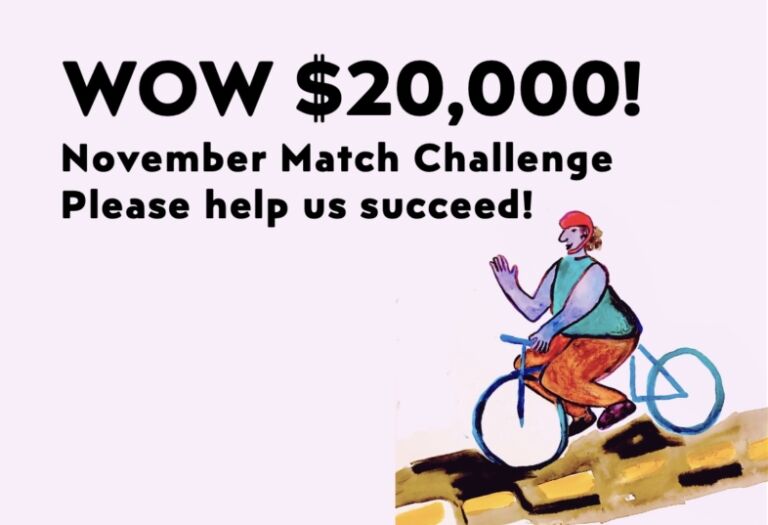 We are ever so grateful to our generous anonymous donor who is as excited as we are at the progress Bike Newport is experiencing in all of our areas of focus – education, infrastructure, and bike culture. Will you help us to capture this generous offer of $20,000 to support our bike safety programs and our advocacy work – so our streets can be hospitable to all road users? Every dollar will be matched!
YOUR DONATION WILL BE DOUBLED!
Please join our donor and support our efforts to pave the way for our communities to have more people biking and walking to get where they want and need to go. Let's make it easier for people to get out of cars, enjoy the benefits of fresh air and physical activity, and make our roads more organized and safer places.
What are we working on that makes you bike happy? Here are a few 2021 highlights:
We collected and restored more than 200 bicycles in the community so far this year – totaling more than 500 since the pandemic started – keeping them out of the waste stream and on the road.
150 youth and adults received free helmets and lights, with more distribution scheduled as our days shorten and darkness lengthens.
Five weeks of free Summer Bike Camp including our first week for LGBTQ+ youth.
Students of Thompson Middle School are visiting Bike Newport weekly – growing bike handling and bike repair skills and confidence.
The awesome half-acre "Pump Track" is up and running at our Big Blue Bike Barn on Sunset Blvd. Kids of all ages are playing and building their bike prowess safely far from cars.
Our bilingual English/Spanish bicycle Rules of the Road are reaching hundreds of people digitally and in print.
Our full-time bilingual Bicycle Safety Instructor – Marissa Caito – is on site five days/week.
We now have adaptive trikes for children and adults with balance challenges to now participate with their peers in all of our programs.
We introduced a top-notch drop-off repair service to help meet the need left by local bike shops closing.
We established a fleet of 20 rental bikes to help meet the need for more day rentals.
Coming in the Spring – our beautiful canopy over the Big Blue Bike Barn designed by the Roger Williams University School of Architecture – we can't wait!
We're also ready to roll with our City's seniors and others with limited mobility on our Cycling Without Age "Chat" – straight from Copenhagen! – as soon as we secure permission with the City administration.
Thank you for supporting Bike Newport – we are so grateful to all who make our programs possible. If you have any thoughts or questions, let us know. We love to hear from you!
(401) 619-4900 / info@bikenewportri.org / 62 Broadway, Newport